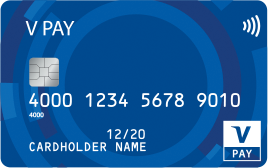 Visa Europe has designed the V PAY bank card for European consumers based on a chip and a PIN. The V PAY card makes it possible to pay in the shops and withdraw money from distributors all over Europe. V PAY thus contributes to the establishment of a Single European Payments Area (SEPA). As the first SEPA compliant product, the V PAY card uses the particularly secure EMV chip.
Thanks to the reliability of the EMV technology, V PAY offers two decisive advantages in terms of security:
With V PAY, transactions take place only by chip and PIN - the account data required for payment and found on the magnetic strip can no longer be abused (so-called "skimming") . Since the launch of this V PAY product in 2007, no case of skimming fraud has been recorded. Only supplementary services such as the printing the account statements or the opening of the door are still done via the magnetic strip
V PAY - as a chip-based payment process - excludes fraudulent use from a forged card. ATMs detect the absence of chips and therefore do not accept card copies.
V PAY is therefore a cross-border bank card solution that is both simple and secure, ideal for everyday use. V PAY cards can be used at millions of merchants and thousands of ATMs across Europe. V PAY cards are accepted all over the world, where EMV chip and PIN technology is available.